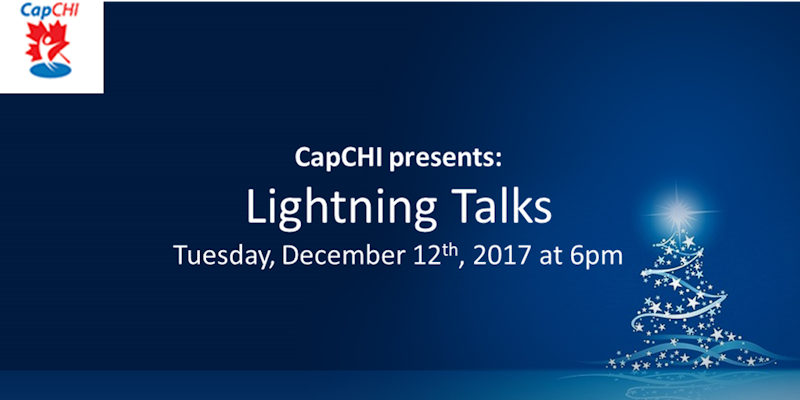 Join us on Tuesday, December 12, 2017 at The Fox & Feather Pub and Grill for an unplugged CapCHI meetup! We're moving away from our usual format and bringing you a more casual night of Lightning Talks as we head into the holiday season!
Date: Tuesday December 12th, 2017.
Time: doors open at 6:00 pm; presentations begins at 6:30 pm.
Place: Upstairs room (3rd floor) at The Fox & Feather Pub and Grill, located at 283 Elgin St, Ottawa, ON, Canada (foxandfeather.ca).
Registration (Free!): We request that you pre-register via Eventbrite, but it is not required to attend… https://www.eventbrite.com/e/capchi-event-lightning-talks-tickets-40175513041
Join us at 6pm for complimentary appetizers and chats with like-minded friends. You'll also get 10-percent off food and non-alcoholic drinks throughout the evening. Use #capchi if your tweeting or posting!
Lightning talks explained
Lightning talks are a series of 5 minute presentations from a wide range of professionals and academics from the HCI, UX, and Design worlds. Our speakers will be talking about what interests and excites them outside of their everyday work. No matter what your interests, we guarantee you'll learn something new.
Presenters
Scott Plewes (VP of User Experience Design, Macadamian): What I Think About When I'm Getting My Elantra Repaired
Getting my Elantra fixed the other day made me think of a 2000 year old thought experiment, a 100 year old one , their connections, and the nature of impermanence. 
Patrick Lajeunesse (Senior Optimization Advisor of Canada.ca, Treasury Board Secretariat): The World's Greatest Twitter Account Ever
Many of us use Twitter for entertainment, for work, networking, news. But we could be using it for so much more. If you follow the world's greatest twitter account ever, you can enrich your life in ways that are hard to measure.
Dominira Saul (Chief Experience Architect, Akendi): Secret Identities
When I was a teenager, I fell in love with comic books. As I have grown up comic books (or graphic novels as adults like to call them) have grown up with me. In comic books you will find much more than just spandex-clad heroes punching bad guys in the face. For example, we are all familiar with the comic book super hero and their antithetical alter egos, but isn't it true that we all have secret identities? What can we learn from the history and culture of comic books to better connect with our own secret identities?
Lorraine Chapman (Senior Director of Healthcare, Macadamian): Running: A Transcendental Experience
As far back as I can remember, running has been a constant element in my life. Many refer to the runner's high or the endorphin addiction to describe a runner's commitment to running. But whether I am running for joy or out of sadness, running towards or away from something, running to feel or not to feel, or running so I can really, truly enjoy that 2nd (or 3rd) piece of chocolate cake – running has provided meaning in a transcendental way. In this lightening talk, I will attempt to relay the sensory and spiritual experience of running. I might even convince you to add it your daily routine 😉
Laura Wesley (Executive Director, Consultations & Public Engagement, Privy Council Office): Applying UX to Organizational Change
What's a former UX'r to do when she moves into management? Apply design methods and skills to her organization of course! Attendees will hear a bit about one woman's journey up the career ladder, and what tools she found most useful to keep in her toolkit.
Su Cheng Lee (Professor of Interactive Media Design Program, Algonquin College): Learning and teaching in 2018 
Current technology encourages a customized/decentralized learning environment to the learners. Let us have a look at how we are moving away from the factory model of education to where we are today and what we can expect fro learning and teaching in 2018.
Tomasz Ogrodzinski (UX Researcher, Klipfolio): A Few Things I Learned by Getting Kicked Out of Canada
Lessons about perspectives, empathy, and the power of narratives.
Julie Dufour (Senior Content Designer, Digital Transformation Office –Treasury Board Secretariat): Graphic Novels: My Inspiration for Creative Thinking
When I was 19, a friend introduced me to the Sandman series by Neil Gaiman. My life hasn't been the same since.  Much to the delight of audiences, the best graphic novels can express complex and unconventional ideas through the seamless combination of words and visuals. Now doesn't that sound like an awesome user experience? Let me walk you through some of my favourite examples and how they inspire my work as a content designer.
John Omura (Project Manager of Design Centre, Algonquin College): Living with G.A.S.
Full disclosure – my name is John, and I have G.A.S. I've been struggling with this condition for most of my formative years and continue to struggle well into adult life. Unfortunately G.A.S. cannot be cured – it can only be medicated. My talk is about my personal challenges with G.A.S.  I will attempt to share my experiences with G.A.S. attacks, in the hope that it will help others recognize it's symptoms before it's too late!
Manu Singh (Chief of Guidance and Standards, Digital Transformation Office – Treasury Board Secretariat): How to Land an Airplane
Flying airplanes is easier than you think. Landing them is a different story. I'll show you what it takes, and pass on how aviation changed the way I work!
AND YOU! That's right, we'll be opening up the floor. If you're up for it, tell us about your own interests or hobbies in a quick 5 minute presentation.
When and Where:
This event will take place on Tuesday, December 12th, 6:00 pm at the The Fox & Feather Pub and Grill, located at 283 Elgin St, Ottawa, ON, Canada (foxandfeather.ca).
CapCHI (www.capchi.org) is a social and professional society of people who work as user interface designers, researchers, educators, software developers, web designers, graphic designers and human factors engineers in and around Canada's National Capital Region. Founded in 1991, CapCHI's goal is to bring together local professionals interested in how humans and computers interact, in a relaxed and informal atmosphere.